SocialHoot: Win Customers Using Social Sweepstakes
In my previous blog post I shared information on how to setup your SocialHoot account and connect all your web services to your dashboard. I also shared information about our social contest where some lucky contestant will win a full year of SocialHoot Premium for free.
The good news is the contest is still running, and you still have time to win, but hurry – this contest ends on October 31, 2021. To enter the the SocialHoot Premium contest just click the link below, and enter your information. No purchase required – it's an International contest.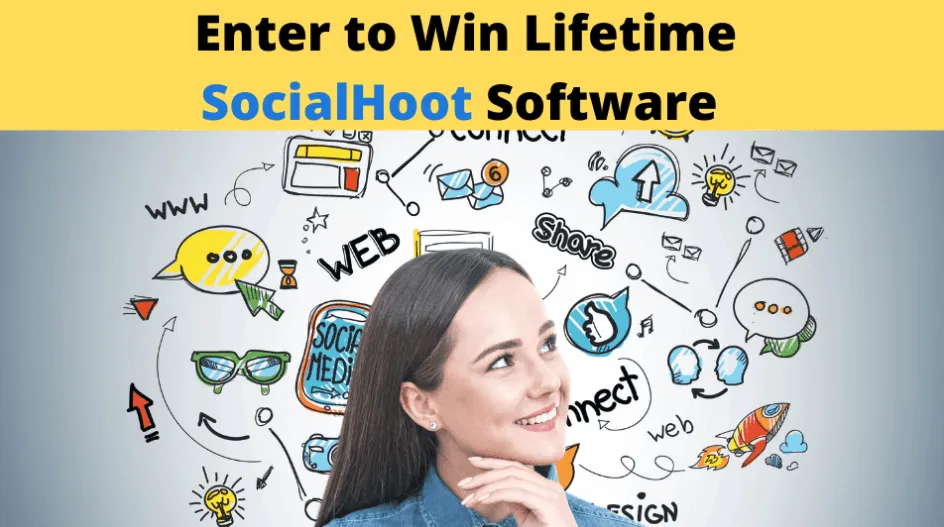 Now that we have the housekeeping out of the way, let's dig in on this blog. In this post I'll be providing a deeper dive on how we use the SocialHoot platform to create social contests, just like the one in the link above.
Social contests are a compelling way to gain new followers, build brand visibility, and create interest in your products and services. In this case study we are using our own product as the prize we are giving away. But many brands like to give away vacations, hot tech gear, and in some cases cars and homes. We suggest prizes that align with your brand or campaign.
Winning Customers
Follow along as I illustrate how easy it find new customers, by setting up a contest on the SocialHoot platform. First we login to our dashboard and then we click "Sweepstakes" on the left menu bar. Now let's take a tour of the area, on the larger portion of the page at the top you'll find a yellow menu bar that toggles to hide or reveal the tutorial video for this section.
Each section of the SocialHoot platform has these quick video tutorials that walk through each aspect of the system. SocialHoot makes online marketing easy – now let's get back to setting up our contest. In the image below, just below the video tutorial section we have a listing of our current SocialHoot sweepstakes, as well as a button to add a new sweepstakes.
Click the Add Sweepstakes button and we're presented with a page that details all the information required to create a new sweepstakes, so let's review these items together. It's important that understand that we are building a landing page for the sweepstakes. This landing page is hosted on the SocialHoot platform, and the data that's collected is stored on the platform. This information may be exported for use in campaigns, or sent directly to your MailChimp or ConstantContact email lists. SocialHoot integrations make it easy.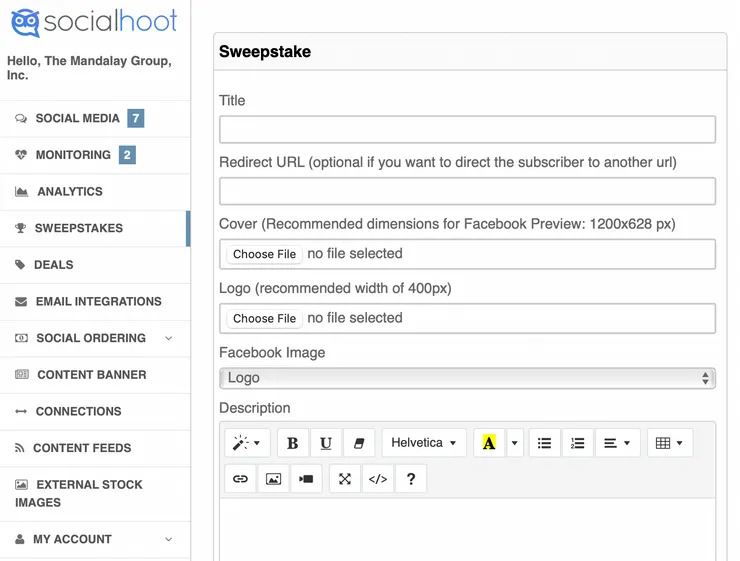 Taking Stock
I'm going to review each item required for the sweepstakes, and show how its displayed on the landing page we are going to create. However this screenshot only shows the top half of the form. After we've reviewed this main section I'll show how to complete the final details.
Title: This is the header text that is located just below your sweepstakes hero image. Only plain text is entered here, but we'll capitalization, and punctuation to create interest.
Redirect URL: This is the landing page or website address you want the customer to be redirected to after they have completed the form on the sweepstakes landing page. This can be your websites homepage, another landing page with another opportunity or a thank you.
Cover: This is your hero image that will be displayed at the top of the page when visitors arrive. But it is also the preview image that they will see when the link is posted to social media. We want to keep our message clear so viewers can instantly decide if it's a good fit. The optimal size for our image is 1200 x 628 pixels when posting contest to social media.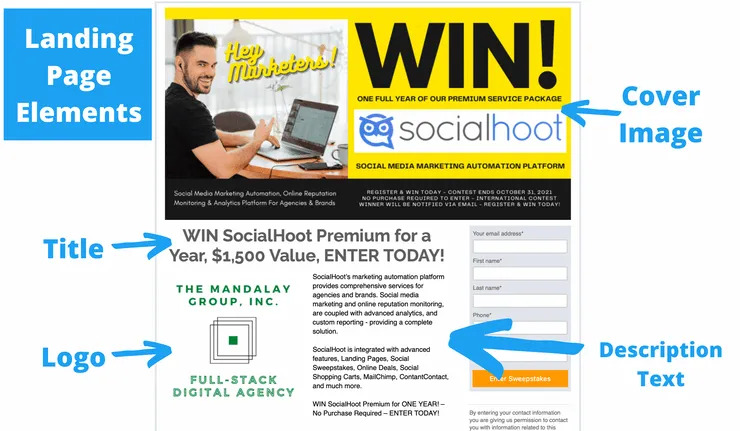 Impelling Information
Logo: This could be your brand or the logo of the prize being given away, or relevant graphic content we want to include on this landing page. Understanding how each section works is helping us to build our campaign, we now understand the deliverables required for this task.
Facebook Image: This toggle allows for either the Cover, or Logo image to be displayed when the link is posted on Facebook. We may want to create a link for each image, to do some A/B testing. Multiple variations of sweepstakes landing page may be created for more extensive testing. All parameters of the sweepstakes landing page can be unique for different markets.
Description: This text box contains the written information you want to convey to visitors about the sweepstakes. Describe the contest, prizes being given away, and other details you want to share. The full-function editor may used to format text, video, and hyperlinks, but plain text can be entered as well. Our sample illustration contains simple, unformatted text.
Checking All The Boxes
After completing our description, we scroll down to find another text box and list of check boxes to select information we want collected from our visitors. We can further edit these parameters after initial setup. Edits can be done at anytime, before or after publishing site.
Terms and Conditions: We have found collecting and creating all the different elements needed for a sweepstakes before beginning the process made sweepstakes setup easy-peasy. Use these guidelines to assemble all the required information, before adding a sweepstakes. Terms and conditions of our sweepstakes are clearly spelled out in unformatted text box.
Button Text: This is pretty self-explanatory, in this field you enter the text you want on the button displayed below the information collection fields. Here we have "Enter Sweepstakes". Any relevant text can be entered here, be inviting and make it fun for your visitors to win.
Going Live
Finally choose the form fields you want displayed, then select if you would like to receive an email notification for each submission. Either way the data is stored in the SocialHoot platform and can be exported at any time. You can also choose that that visitors complete a Re-Captcha puzzle before submitting information. This prevents bots from spamming your sweepstakes so you only get submissions, completed by those able to verify they are human.
Click the Save button, and your social sweepstakes is ready for primetime. Prior to any social promotions, we always like to review how the information is being displayed, and make any final edits to the assets required to complete the landing page. We're ready to plug the URL of our landing page into our social media feeds, and start collecting information.
In the next blog post we'll dive deeper into how we can monetize this information using the SocialHoot platform. In the meantime, don't forget to enter our contest to win one full year of SocialHoot Premium. Click Here